Moving to Tumblr.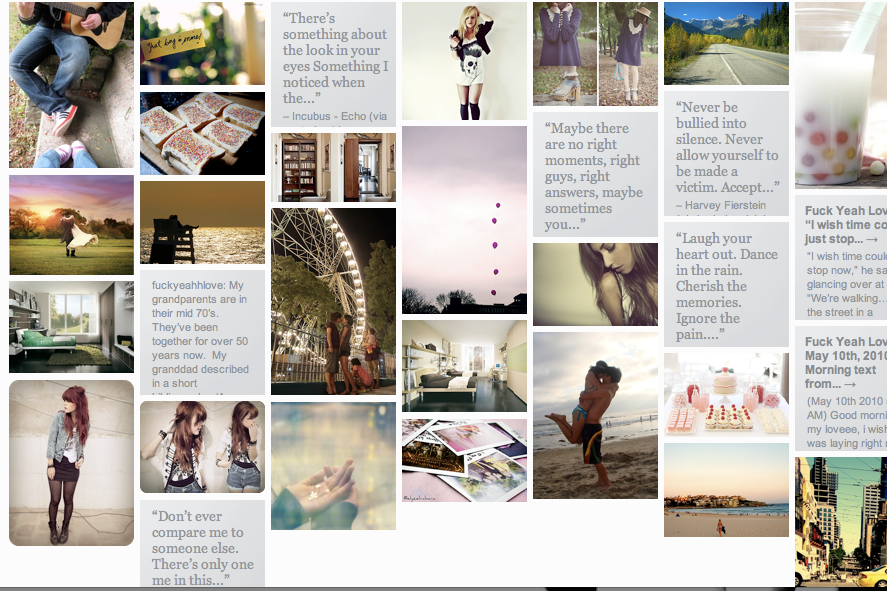 This is why I love Tumblr (:
I've been thinking of switching to Tumblr for quite some time already actually. But it's only just an hour ago that I had this sudden impulse to do it like RIGHT NOW. Haha. I don't know why the sudden urge. But here are some of the reasons why I think it's better if I move to Tumblr:
1) Many people have done that. I mean.. moving from Blogger to Tumblr. And so far they never come back.
2) As you've probably noticed I've been posting Tumblr-like posts recently.. like you know.. quotes and pictures. So I think I might as well do it on Tumblr.
3) And as you can see, I've been blogging less and less nowadays. So maybe with Tumblr, with all those pretty pictures and quotes, I will be more motivated :D
4) Tumblr is not just for pictures and quotes anyway. So I will still post normal blog posts in there. Like updates and things I normally would post here. You see.. it's multifunction :p
5) Lastly, remember I told you that I need to post my pictures through Photobucket now? I figure that it's too troublesome. On Tumblr I definitely do not need to do that (:
I'm not saying that I will be leaving Blogger forever. I might still come back one day! I still have the other blog anyway and I still write things in there sometimes. So I won't delete the account nor this blog. It will remain here as it is. (And it stores so much memories!) (Also just in case this turns into a bad idea next morning when I wake up). But for now, goodbye Blogger. It's nice having you for this 2 years plus (:
Hehe.
Here is the link to my Tumblr site:
In the mean time I will try to figure out how to redirect you guys directly to my Tumblr site when you come here.
Cheers.